Silicon Valley Eagles
The Silicon Valley Eagles Soccer Academy blog is a great source of soccer coaching tips, parents and players improvement tips and advises, and updates on the soccer world news.
COACHING PROGRESSIONS: TRAPPING & DRIBBLING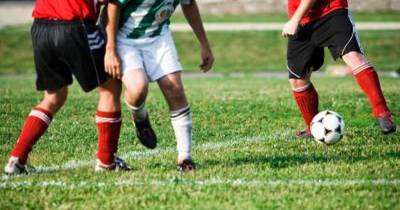 Communication is an essential tool for someone training young kids to play soccer. Just as essential, I believe, is for the trainer to have an understanding of the strengths and weaknesses of the players with whom he is working. Training sessions with diverse skill levels are detrimental to the skill development of all the players involved. One thing trainers need to do is to ensure that training sessions are built with the skill of the kids involved. And, as mentioned, avoid placing weaker kids with stronger kids for training purposes regardless of age. Some clubs are going to a data system where each child is rated for soccer ability and athleticism, given a score, and then placed in a training group consistent with that score (not based on age). This ensures all kids are in groups where they are challenged and can excel.
But, that is not the point I wanted to discuss. I mentioned before how coaches sometimes give instructions that, as we say in the legal business, assumes facts not in evidence. What I mean is that coaches will tell kids to pass in games, but the kids lack the ability to catch. If they cannot catch the ball, how can they pass the ball? My experience with kids is that if they have the ball with time and space, they generally do something smart with it. From my observations, one of the main reasons young players lack time and space with the ball is because (1) they lack mastery over the ball so that when a ball is presented to them (from a teammate or a loose ball), they lack the ability to control it quickly, and (2) they lack the ability to run off the ball to open space where they can receive it with time and space. Note in (2), a proper catch is still required. We can save (2) for another day.
I noticed this with my girls' team in year 2 – at our first tournament. When you play better teams, your players' time and space gets squeezed. My girls just couldn't get a clean handle on the ball, thus, rarely had it with the time and space they needed to do something helpful with it. From then on, we worked on traps. All kinds. Trapping rollers, bouncers, line drives, punts. You name it. Even then, I lacked an understanding of the technique to properly teach the technique. Through research, assistance from other coaches, and trial and error, our system was/is: (1) relaxed foot (angled 45 degrees to ground) (we called it a "loose tooth"), (2) foot slightly off the ground where contact with center of the ball is likely, and (3) encouragement to catch the ball in front of your body, not underneath. The whole system was referred to as "peanut butter feet" as opposed to "concrete feet." Not sure why. It just fit.
I still use those lessons today. While there are more advanced methods of trapping, I encourage all the kids to get that basic one down. As they get older, they are taught to keep the ball moving or touch the ball to space instead of trapping it at your feet. I think it is helpful if you are under duress when the ball is approaching, but I think there are still a lot of moments in a soccer game where you need to collect the ball at your feet. I delay teaching the "touch to space" trap because the kids do it anyway — they just don't know where it is going. In other words, most kids lack the ability to control the ball so every time they go to trap it, it is bouncing 5 yards away. First, they need to learn to kill it at their feet, then we teach them "touch away" trap. It goes back to my first point — many kids lose time and space because their first touch on the ball is too heavy and it bounds away – turning what was their ball into a 50/50 ball (or even a 60/40 ball). In any event, instead of scanning the field with the ball at their feet or proceeding to dribble, the kids are left chasing after a ball. Once they can kill the ball at their feet, then I move on to more advanced stuff. So, my coaching progression for trapping is mastery at foot first.
For dribbling, I start with a few basics: (1) use one foot, and (2) touch it every step. I have watched the U6 training videos and read material, but I fail to see the advantage of teaching two footed dribbling at 5-7 years old. The reason I think it is a waste of time is because that is how they dribble anyway — penguin dribbling. All of them do it. Just like all of them advance the ball well in advance of where they are going. While I think it is crucial to work on the weak foot from early ages for trapping, shooting, and passing, most people use a favorite foot to dribble through adult soccer, including professionals. And, for speed dribbling (advancing the ball further than 1 step), they all do it anyway. I think time is better used teaching them to pick a foot, touch it every step, and then teaching them all the different parts of the foot they can use. When kids develop and get the idea of (1) and (2), I encourage (3) using laces to contact ball as the next progression. A good way to get them to understand it is to tell them to raise their knee. Once we get through that, the sky is the limit and they need to use all parts of their foot.