Silicon Valley Eagles
The Silicon Valley Eagles Soccer Academy blog is a great source of soccer coaching tips, parents and players improvement tips and advises, and updates on the soccer world news.
APPLYING SPANISH TEAM TACTICS TO A YOUTH SQUAD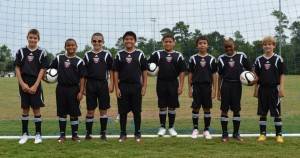 So…let me start by saying that I have spent way too many hours thinking about this issue. While development is the goal, particularly in the small-sided years (anything below 11v11), does there exist a formation for 8v8 that complements development? Or, I should say, that complements development and my coaching philosophy? My coaching philosophy is player development with the style of play being possession based soccer, emphasizing creativity and mastery of the ball, short passes with the ball primarily on the ground. I encourage dribbling around defenders in 1v1 situations, while at the same time recognize the value of the give and go and other 2v1 sequences. I want the boys and girls I coach to be cerebral players and always "think about the next play." "Show for the ball" when your partner is in trouble, move to space when he is not. I believe strongly that all players need to learn all the positions and be able to interchange (that is Code for "yes, little Johnny may have scored 100 goals as a 7 year old but he needs to learn to defend too"). That is my philosophy in a nutshell.
I have coached 8v8 since 2006. I cannot count the number of games I have coached. I have coached players at all levels of skill, both technical and tactical, from basic recreations to high level competitive kids. I have labored through the years to come up with an approach from a formation to assist the kids in their understanding of the game and their responsibilities. I do not believe in teaching kids positions in this stage other than basic soccer concepts and theories of defense (compress the field, delay, cover) and attack (enlarge the field, penetrate, support). So, what are some formations I have used?
1. 2-3-2
This was where I started. I did not know then but this is an aggressive, attack-minded strategy. We were recreation combos of 8 and 9 year olds (before they changed the small-sided rules). I would think this is still a good rec-based formation but one vulnerable to attacks without the midfielders lending defensive support. Also, it means that 2/7 of your team is laying up top, not really involved in defense.
2. 3-1-3
This was my second formation. This formation should turn into a 3-3-1 on defense. This is the year that I coined the phrase for my outside mids (wingers or whatever you want to call them) that "you are a midfielder who occasionally gets to play offense." I found that if kids define themselves as forwards, they tend to work less defensively. They come pre-wired with ideas of what a forward should and should not do. The fewer of them that you have, the better. This formation worked but it required a lot of management–reminding girls to return from their runs. It also stretched the center-mid because the outside mids usually did not return. Now we have 3 players waiting up top…
3. 3-2-2
I have tried this over and over again. I just do not like the shapes and I do not like the layers. At the 8v8 years, it is hard enough to learn how to touch the ball, effective dribbling, etc. I do not want kids thinking in the games of what is their job versus someone else's. I want them "playing soccer and thinking about the next play." With the wrong kids in the middle, you will quickly find yourself in a 3-0-4, removing the links you need on the field and continuity. So, now we have 4 up top….
4. 3-1-1-2
So I varied it. Since I had a hard time getting the boys (this is year 6 and now with boys…) to defend the middle, I turned to Animal Kingdom. Basically, what I wanted was a defensive-minded midfielder and an attack-minded midfielder. Since they generally have no idea what those are, we decided to give the Mids animal names. The boys named them: Rhino for the defensive mid (a Rhino has armor they say), and a Jaguar for the attacking mid (obviously). This really worked. Each game, different kids were excited to be the Rhino or Jaguar. What's more, with something as simple as an animal name, it helped them to know where to be and what role to be on the field without a lot of second guessing. I tell people all the time that a lot of coaching youth is the ability to effectively communicate with them. In this instance, I let them name the animals. So, instead of telling them to "get back" — a vague statement — I could say simply, "remember, you are our Rhino!") Even though we play a different formation today, we may shift a midfielder to holding mid now, we still call it Rhino.
5. 4-2-1 Winger Attack
This was Coach Tom's baby. The two outside defenders operate as wingers. With only one forward, you are strong up the middle with 2 center backs and 2 center mids. The problem with this formation is that the workload on the wingers is too high and field dimensions vary too much. If all 8v8 fields were the same dimensions, there is a chance this formation would work. But, having been involved in 8v8 for the last 6 years, I can tell you that you never know what you get with a field. I think full-sided fields are more consistent, but 8v8 fields are all over the place. If it is on the small side, this formation works great. But, if it is a large 8v8 field, it is just too much work for the wingers and the boys cannot manage it. It is a lot to ask mentally too – a player starting as a defender, on the back line, has to add defensive pressure all the way up the pitch, while at the same time provide cover all the way back. Our boys just couldn't manage it. So, when we were in a bind, we switched to…
6. 3-3-1
It was 2008 all over again, except for this time I was wiser. Instead of calling it a 3-1-3, where players can get the idea that they are "forwards," we remove all doubt by calling it a 3-3-1 and again reinforcing the old adage "you are a midfielder who occasionally plays offense." I do not think this is that confusing, but it does require some management to remind players of their defensive duties and, alternatively, remind them to go up and attack. Sometimes we would find ourselves with only one player attacking the goal. I never loved it, was never loyal to it, and was shopping for the next big thing when the Euros were televised in June…
This is a good formation to teach width in attack. The midfielder responsibilities transition fine to 442 or 433.
7. 3-4-0 CURRENT FORMATION
This brings me to today. Through the summer I worked with some high school girls from Vidor in a 6v6 league. As I have posted on here before, I love small-sided games, especially for older players. The small field compresses the game requiring better touch and less space. Ball control is at a premium, as is the talent of using the dribble to create space (or your first touch). Some of the girls had a hard time with positions – they tended to define themselves as a forward or defender. The forwards generally waited for the ball while the other girls battled to get it to them. My concept of 6v6 is different – I prefer no positions with the requirement that they attack as a team and defend as a team (5 on attack, 5 on defense). This was a little hard to accomplish so we modified it 2-3-0: 2 defenders (rotating), 3 midfielders, and 0 forwards. I used this formation to emphasize that we attack as a team and defend as a team. I discouraged long counters that stretch our team (making us vulnerable to loss of possession in the middle). I stole the idea from Spain in the Euros – when they played a 4-6-0. How did it work? Fantastic!
While there were still players who tended to "lay up," the idea started to gel that we all defended and all attacked. That does not mean that everyone does the same job in attack and defense. Some pressure, some cover, some support, etc. But the idea of playing as a unit in a small area of the field, discouraging long passing , encouraging keeping the ball on the ground, started to work. So, if girls who, for many, had no prior club experience could do it, why not our 10 year old boys, most of whom have played for 5-6 years?
It works! Not only does it work, it requires less "reminding" than the old 3-1-3. Somehow, when they know that there are NO FORWARDS, they get the idea of defense. Again, since there is NO FORWARD, they know that they cannot rely on someone up top to score – they all have to be part of the process. Mind you, I coach a group of boys that are fairly versatile. Since we have been together (1 1/2 years), we have not allowed people to play one position. So, in our first tournament with this formation, everyone played defender and everyone played midfield. We used four different goalies. I do provide them with some guidance in the middle by saying two are central mids and the other two outside mids. But I tell them to feel free to change it as they see fit. More than half of our team has scored in only two games. We are still incorporating the winger-cross attack our trainer has emphasized, but, at the same time, we are enjoying a lot more defensive help in the middle from players other than the defenders. I am not sure it is the ONE (as I have been down this road before), but it sure seems to fit what we are trying to teach and develop.
***Caveat: I would not recommend this for a team with players who lack tactical understanding of the game. The two center-mids are not only good technicians, they are good decision-makers. Some kids just cannot do that job. For that matter, I would not recommend something with the vagueness inherent in the job description for the kids (like the 2 CMs) for beginning level players. Our boys compete in the most competitive league in Houston – a very competitive soccer area. For younger or beginning players, I would prefer a formation that would be easier to teach out of and reinforce concepts I am introducing to them (width in attack, using the CM to link play, etc.)