Silicon Valley Eagles
The Silicon Valley Eagles Soccer Academy blog is a great source of soccer coaching tips, parents and players improvement tips and advises, and updates on the soccer world news.
The Benefits of soccer camp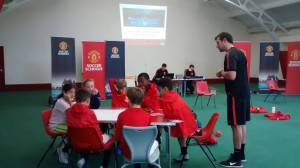 We are halfway through what soccer coaches refer to as "camp season." This is the time that paid coaches for clubs have available time to make some extra money in the form of "camps." And that is the first thing that your should know … camps are about money to clubs and coaches not skill development of individual players.
I am writing this from two perspectives: (1) as a parent who has spent a lot of money on soccer camps, and (2) as a professional coach (I am paid per team that I coach) who is very demanding on preparation and teaching in sessions.
Observations:
(1) Skill level of participants is mixed. There will usually be a few high level players, but a lot of weak players. If a camp is open enrollment, meaning all skill levels allowed, the competition and quality of the sessions will be mixed. Most camps are open enrollment because, remember, these are money-makers, not skill-makers. How can they realistically promote player development when you have everyone from beginning recreation player to a highly skilled player in the same session? We would never allow that at club-level training.
(2) Quality of coaching is mixed to poor. From what I have seen, the coaches are young, inexperienced coaches but former or current players. The only value coaches like that have is to inspire the players by their presence as, usually, they lack the ability to teach the game to young players. There may be some top youth coaches mixed in, but, from my experience, most of the coaches are young and inexperienced in teaching the game. But, as your player is not realistically going to gain increase in skill in a short camp, fun and inspiration from a former player may be the perfect thing. Just do not expect a good evaluation of the players.
I have sent kids to the many soccer and other sports camps as well as Barcelona and Manchester United soccer Schools. I have sent kids at very high skill levels to middle skill level.
So, here is my two cents:
(1) If you are putting your kid in a camp to improve their skill or further their technical development, you are wasting your money. That kind of progress is not going to happen in 3-6 days. Yea, they may learn a new trick, but you won't see much else. If this is your prime motivator, don't spend the money. Rather, put your child in a year long training program focusing on player development. If you are near a Coerver training program, and your kid is accepted into their academy, that is your best hope to improve ball mastery because that is their primary focus (not team development).
(2) If you are putting your kid into camp to have fun, perfect. It is expensive but this is a more realistic goal if you are looking for ROI. They get to stay in a dorm, meet new players, hang out with other like-minded kids.
(3) If you are putting your kid into camp to further their love of the game, some camps can deliver on that. If you can find a camp that delivers here, it is worth it. In other words, if they leave camp wanting to play more soccer, touch the ball more, talk about the game, then you got a solid ROI. If the camp doesn't deliver here, you are really wasting your money.
(4) If you are putting your player in to get a solid evaluation, you will be disappointed. Remember, camp coaches are usually young, inexperienced coaches. The top coaches at the clubs are not coaching at the camps. So, while a former player for Swansea may be fun, do not look for him to give your player a quality evaluation. At one camp, the coach gave the evaluation form to the players to let them complete it. That tells you everything you need to know.
Evaluating players is serious business. It requires focus and energy. You have to be willing to pay close attention to the player. It means that you may have to intervene — if a precocious player is dominating coaching time and play on the pitch, move kids around and see what happens. Players come in all shapes and sizes with different personalities. The coaches in a short camp do not have the energy or interest in looking beyond the superficially obvious observations. Your best bet to get a solid evaluation is ask your regular coach. In addition, find out what youth coaches, no matter the club, take it seriously and bring your player to them.
Remember, many of these camps charge as much for 3-4 days as your club does for training for a year. If you want technical improvement, find a coach that values that. If you don't know one, find a licensed professional coach. Since they do not care about team success, they are only focused on individual player growth. It is the only program I am aware of that you can be 100% certain that your kid will improve in individual ball touching, dribbling, etc.