Summer Soccer Camp -2nd Week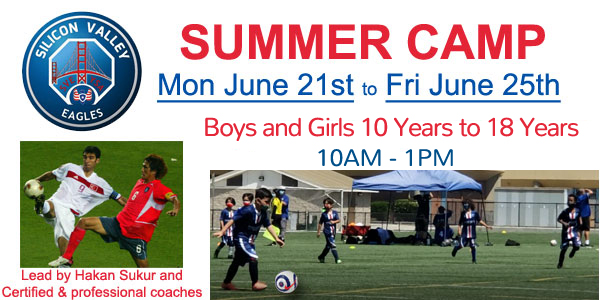 ---
This Summer soccer camp is led by Hakan Sukur (one of the most prolific strikers in the world during his prime, star of Turkish National team, Inter Milan, and Galatasaray UEFA Champions). Hakan scored the fastest World cup goal in the history (11 seconds)
DATE: Mon, June 21st to Fri, June 25th
Ages: Boys and Girls between 10-18 years old.
The camp is open to all genders and players of all skill levels and abilities.
DAYS:
Monday (Jun 21st)
Tuesday (Jun 22nd)
Wednesday (June 23rd)
Thursday (June 24th)
Friday (June 25th)
Time: (10AM to 1PM) Half-Day
Locations: High quality Turf Field- Del Monte Soccer Park, San Jose (806 W Home St, San Jose, CA 95126)
Spots are limited - based on First register First Serve.
This soccer training program is led by Hakan Sukur (one of the most prolific strikers in the world during his prime, star of Turkish National team, Inter Milan, and Galatasaray UEFA Champions) and some other professional and licenced coaches. our coaching staff creates groups and drills based on age and skills in order to allow everyone to grow at their own pace.
- Camp Training Program includes:
Technical skills (dribbling, shooting, passing, receiving, ball control..), Physical, fitness and specific conditioning, coordination, strength, agility, Psychomotor skills, speed and endurance, tactical in small sided games.
This soccer training is for players looking for soccer development to prepare them to play competitive in the future. Or just for kids want to improve their soccer technical skills (dribbling, shooting, passing, receiving, ball control..) and improve their fitness and have fun in a good soccer environment.
Properties
Open Registration Date
06-20-2022 10:00 am
End Date
06-24-2022 1:00 pm
Days
Monday - Tuesday - Wednesday - Thursday & Friday
Duration
(10AM to 1PM)- Boys & Girls (10-18 years)
- Spots are Limited
Coaches
Lead by Hakan Sukur and Professional and USSF Certified coaches with many years of Experience with kids
Location
Del Monte Soccer Park
---